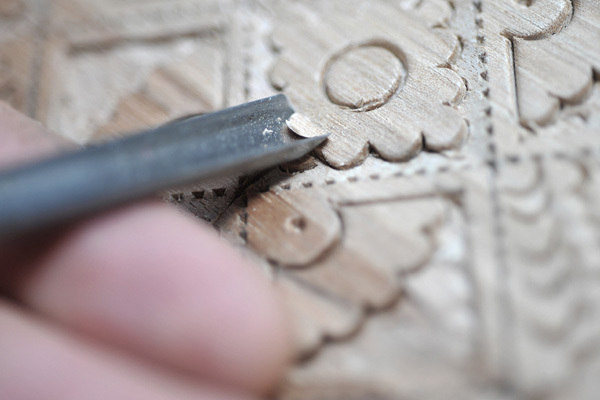 From

Trees to Furnishings

Since solid European hardwoods are the core of all our products, the production process starts with sourcing and buying them. Almost 100 percent of our wood is locally sourced in Bosnia. The walnut wood comes from Persian Walnuts, ((J. regia, engl. "royal walnut"), which are native to the Balkans as well as southwest and central Asia and in addition to lumber yield very tasty nuts, much superior in quality to those of black walnut. Cherry is another popular wood we use, of which there are several different local species. In addition, we use several species of European maple, as well as, oak, ash, and elm. We ensure that all of it is exploited in a sustainable manner. We buy walnut and cherry logs from private orchards throughout Bosnia.

.

These are trunks of old trees, which are cut when their productive life of fruit bearing is over and need to be replaced by new ones. We buy our logs directly from villagers, often in very small quantities, whenever it is offered to us. Not having to deal with middlemen reduces transaction costs to our suppliers and results in better deals for them. This sourcing model increases our transaction and inventory costs, but we get somewhat better deals and are the first buyer to whom local villagers offer their best logs.

Furthermore, through our direct activism, we prevented unsustainable exploitation and exports of cherry and walnut logs in years immediately after the Bosnian war ended in 1995. In those years, when the local economy was still in shatters and refugees had no access to their land, illegal logging became a lucrative business for unscrupulous profiteers. We lobbied for a ban to be introduced on export of unprocessed logs and lumber and with the support of the international community present in Bosnia we succeeded in our efforts. If the process of log theft and illegal exports continued, Bosnia today, perhaps, would not have enough walnut trees to produce baklava, let alone to export hand-carved designer furniture.

Other hardwoodds (i.e. maple, oak, elm, and ash) we source from public forestry companies, the management of which has vastly improved in recent years. The forest certification process has started and several forests are FSC certified. There is also concrete evidence that forests are exploited sustainably. A recent forestry inventory (financed and supported by the World Bank) has shown that Bosnia's forest volume has increased significantly since the last inventory was conducted in 1970s. In fact, the study indicated that Bosnia is, perhaps, has more trees per capita than any country in Europe or Central Asia.

Once we purchase them, the logs are sent to a couple of smaller sawmills, with which we have developed a close work relationship. They know our needs well and cut the logs according to our specifications, which ensures minimal waste. Green lumber is then transported a short distance from the local mills to our production facilty.
There the production process starts with steaming and kiln drying the wood. We own our top notch steam vat and dry kiln capacity, which enables us to ensure that all the lumber is dried to perfection with virtually no waste.

The product production process starts at the drawing board. Our standard collection is designed by the most talented local designers, in search of whom we invest significant time and resources. This part of design work is outsourced. In addition, in our full time team, we have an architect and a product designer, who design our customized and made to order products and even complete interiors for our clients.

Our production staff is highly skilled and trained to produce customized products of considerable variety. The machinists process the lumber into furniture parts and make a variety of sophisticated classic joints, as well as a couple of our own creation.

Sanded and grooved, pieces that need to be carved are assigned to carvers, who then apply their craftsmanship to hand-carve each piece using techniques which have been perfected in our shop since 1927. Their ability to carve different patterns is constrained only by the creativity of designers and client tastes.